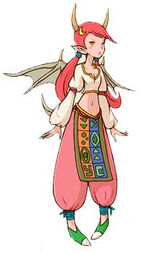 The Gria are a Hume-like race of people with draconic features, including wings, tail, and horns. While not delicate, they are smaller in stature than Humes,
and their wings can carry them upon the wind for short distances. Gria are native to the country of Jylland and rarely venture outside its borders. They
are a warlike people, with fierce manners and competitive spirits. Conflicts between Jylland and its neighbors are common, and the Gria are generally
allowed a very wide berth for fear of incident. The Gria shun magic as a whole and find those who employ its practice vulgar; as such, the few Gria who
travel forth from the forested hills of Jylland as mercenaries, or as invaders, usually fight with blade or bow.
Vital Data
Typical Height: 1.4 – 1.6m
Typical Weight: 43 – 64kg
Hair Colors: Red, White, Blonde, Pink, Green, Blue
Eye Colors: Green, brown, blue, Yellow
Lifespan: 50-70 Years
The Average Gria...
Edit
...is a Berserker, Ranger, or Archer.